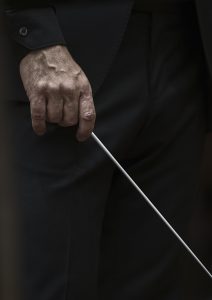 Understanding of the classic orchestra repertoire as the very essence of all music is the basis for how Bergby forms music in all genres.
Ingar Bergby was the permanent guest director for Bergen Philharmonic Orchestra from 2003 to 2008, responsible for Norwegian and Nordic repertoire. In addition to Norwegian contemporary music, Bergby also conducted classic Norwegian works by Svendsen, Tveitt, Grieg, Hovland and Halvorsen. He also performed international symphonic repertoire like Sibelius, Nielsen, Ravel, Stravinsky, Prokofiev, Nørgaard, Pettersson and Lutosławski.
During the 2005 Festivals, he directed the first full performance of A glass bead game by Olav Anton Thommessen, to great success and attention. The work is a full-length orchestra performance consisting of six major compositions.
A major project with Bergen Philharmonic Orchestra was the world premiere of Bullseye by Olav Anton Thommessen, Hokkaido Hagar for the piano and orchestra of Knut Vaage, and Olav Berg's concert for bass and orchestra. Bergby's interpretation of Rolf Wallins Act for symphony orchestra, led to that the work later was taken on a European Tour.
When Bergby was chief conductor of Värmland's Sinfonietta, he conducted several of Mozart's main symphonies, the London symphonies of Haydn, and all the symphonies of Beethoven, Schumann and Brahms.
As Norwegian profile conductor in the Norwegian Broadcasting Corporation (KORK) in 2009-10, Bergby conducted all of Brahms' symphonies. He received the KORK award for this production. The award was given to "an established performer who has contributed to innovative and great musical experiences".
Reviews
«BIT 20… was probably the most fantastic: ensemble, energy and precicion both from the players and from the young conductor Ingar Bergby! The BIT 20 Ensemble seems to be of the same quality as the Modern Ensemble, and we would love to see them invited to Peris in the near future. " Le Monde 26.3.96, Renaud Macarte.